Heal For Real
How I Healed from "Incurable" Conditions
Peter Winslow transformed from victim of spinal arthritis, chronic pain, deep depression and pernicious addiction into a teacher of personal empowerment, optimal health and lasting wellness.
In Heal For Real, Peter shares a treasure trove of wisdom – incredibly powerful principles of science and philosophy brought together for dynamic and lasting change.
This artful and riveting story is a clear example and account, in precise detail, of exactly how Peter healed—and how you can too.
Click Here to Read an Excerpt from Heal for Real
What You Will Learn
In this book I document the specific techniques I used to beat addiction, depression and degenerative spinal arthritis.
You will discover:
The most important tool for healing
The antidote for addiction
How to rebuild a strong mind and body
How to neutralize pain permanently
How to use your inner purpose for lasting results
Wisdom principles to improve your life
Purchase Heal for Real E-Book - $29.95
Help for People with Ankylosing Spondylitis
Help for People with Ankylosing Spondylitis
A Revolutionary Path to Pain Relief and Recovery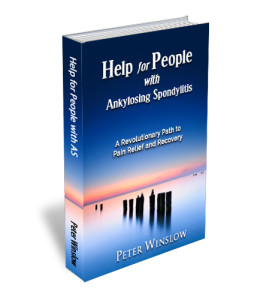 You know the mind-numbing pain and stiffness, the mental and emotional fear, and the fading hope for healing and wellness in a world that seems to offer few if any real answers.
Finally there's a book to explain what you need to know for solid relief from the excruciating pain and symptoms of AS, the same symptoms that I myself have personally faced up to and defeated.
I've been free of the pain and symptoms now for well over twenty years. I am incredibly grateful to have recovered from the devastating, life-altering agony of Ankylosing Spondylitis, and that's why I have written this book to help you.
Click Here to Read an Excerpt from Help for People with Ankylosing Spondylitis
Help With the Pain
This Ebook gives you detailed and practical steps to reverse your pain and suffering.
Use the clear and simple information in Help For People With Ankylosing Spondylitis and you can expect the following:
Your pain will improve by 30 to 90% in under 30 days
Stress and anxiety will sharply decrease within 1 week
You will sleep more soundly right away
Your moods and emotions will improve within days
Not only will you get relief from the symptoms you've been struggling with, you will also benefit in these ways:
You will look and feel years younger
You will be much happier
You will feel personally empowered
You will discover a new passion for living
Help for People with Ankylosing Spondylitis will also help reverse other conditions and ailments that you may have, such as:
Depression
Insomnia
Addiction
Chronic stress
When you're ready to stop your pain, ease your symptoms and take back your life, get Help for People with Ankylosing Spondylitis.
Purchase Help for People with AS E-book - $29.95
Coping, Caring and Communicating

Coping, Caring and Communicating

When Someone You Love Has Ankylosing Spondylitis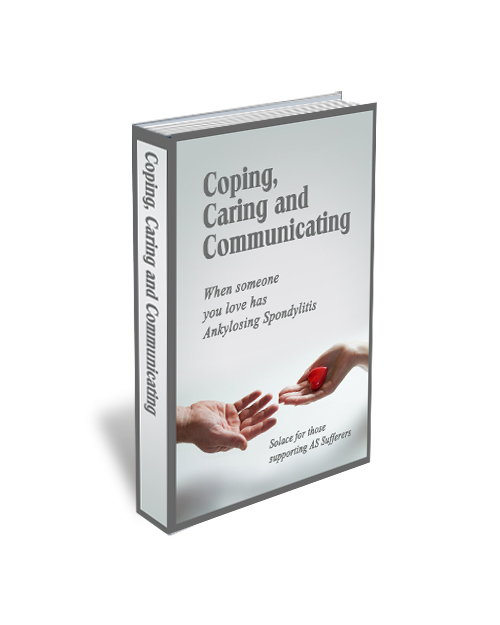 Those who support loved ones afflicted with AS are also victims of the disease. Family and friends in the AS Sufferers inner circle experience the emotional pain of the disease. Feelings of helplessness, grief, frustration and sadness are common to both sufferers and those supporting them.
This book provides guidance for creating a happy and harmonious life when a loved one has AS. YOUR emotional health is the critical component of YOUR physical and emotional well-being.
This book provides the tools to help you improve your emotional state and boost your health and happiness. You become a more effective supporter, teacher, sounding board, and role model for the one you care about who has AS.
Click Here to Read an Excerpt from Coping, Caring and Communicating
The tips and techniques in this book will help you:
Improve your relationship with your loved one with AS.
Reduce and avoid conflicts rooted in chronic disease.
Improve your level of happiness so you can offer more empowered support to your AS Sufferer.
Purchase Coping, Caring and Communicating E-book - $29.95
Satisfaction & Security Guarantee
Your satisfaction is our highest priority! If you are not 100% satisfied with my products, a full refund (minus shipping, if any) is available within 60 days of purchase.
YOUR SECURITY IS OUR TOP PRIORITY: Gold Mind LLC is partnered with Authorize.Net, a leading payment gateway, to accept credit cards and electronic check payments safely and securely for our customers. The company adheres to strict industry standards for payment processing.
Here's what readers are saying:
I'm reading your incredibly inspiring books, and absolutely everything in them makes total sense. I've been reading a lot of 'self help' books to get through my troubled past and negative programming, andI find your books to be particularly helpful. Thank you for a goldmine of useful information!

– Bruno Merz
I got and love the book! Very inspiring! Your book "Heal for Real" is life transforming! I've had your book for almost a month now and I must say it is the best book I have every bought in my entire life. I feel awesome. My life has forever changed and I am now living my dreams. Thank you SO MUCH for sharing this incredible knowledge with me. It has turned my live around in a positive way and I believe it was a wake-up call to restore my life. I don't know how to thank you. For the record, I believe you are one of my guiding angels… thanks for directing me.

– Lo Saechao
Thanks, Peter. Because of your book, "Heal for Real," my perspective has forever changed and now I'm doing better. Thanks, my brother.

– Ignacio Perez
A friend recently lent me your book, Heal for Real, which I've been thoroughly enjoying. For some reason, no matter how much I hear or read about great healing and transformational techniques, processes, etc., they are all just nice ideas until they come from someone who has actually used them to create a profound change. As a therapeutic yoga teacher, your work has helped me ground my teaching in a credible context of how valuable these practices are for acquiring and maintaining health & wellness. For example, I guide students in relaxation postures using visualization, and I'm now able to provide scientific research about how it affects the brain chemistry. This, along with how you healed your spine, helps students believe they can use these techniques successfully for whatever they're choosing to manifest. In my own life, you've given me the support I need to do so with certainty. Thank you for all you share with us.

– Honey Levin